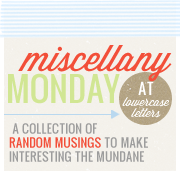 I thought I
would join in with
Miscellany Monday
again.
But this time
I just
have a few
miscellaneous pictures.
I took these pictures
a few weeks back.
Ella Rae
got this darling dress
from a friend in New Jersey
and
I must have forgotten
about it during the summer.
Even though it is after labor day
(I'm a stickler for the "no white after labor day" rule)
I took Ella Rae
down to the beach
to snap some pictures
in the pretty dress.
It was really hard
to keep Ella Rae
safe near the water
and
get good pictures
alone...
but some
are better
than none.
Enjoy!!
on a mission to get to the water
almost there!
so happy
the dress got soaked immediately, so now we are down to only diaper
one last dash to the water before we go home.
And yes,
that is Ella Rae's
RuffleButts
diaper cover.
I
Love
It!
Happy Monday everyone!